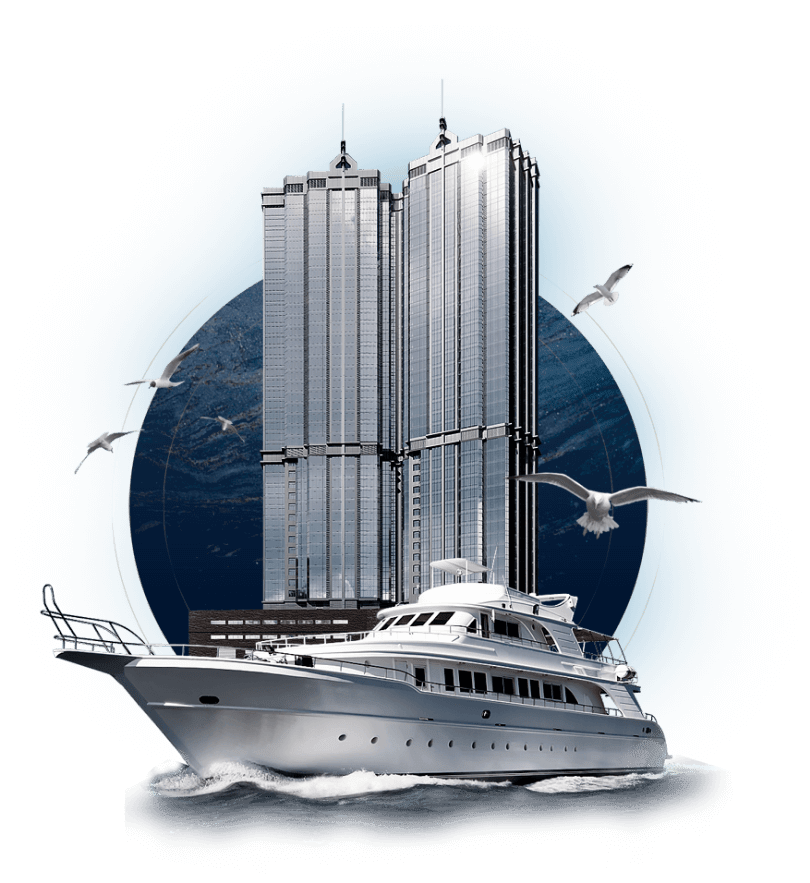 ABOUT HOUSING ESTATE
For many years, people have erected skyscrapers of concrete, glass and metal. Now it is time to breathe life into them and provide home comfort.
Aquamarine multifunctional residential estate is the first skyscraper in Siberia and the Far East created as a perfect living space.
Synergy of the unique design, high-tech solutions and high-minded esthetics. Height of 155,5 meters and location upon the shore of Amur bay makes Aquamarine unique in its own way and enable to materialize a combination of coziness of countryside living and benefits of town residence.
ADVANTAGES
WHAT MAKES US DIFFERENT
Geological data

Geological data

The skyscraper upon the shore of Amur bay where the sound of breaking waves gives unimaginable freedom of life while filling the air with sea notes. It is in the very heart of the city - a few minutes, and a civilization stream is around you. Stay indoors, enjoy the moment when you are surrounded by the silence, coziness, fresh air, away from motor roads, power supply lines and railways.

Architecture

Architecture

Reliability, quality and innovative technologies - all these determine architectural solutions of Aquamarine residential estate. The design for the skyscraper has been developed by highly qualified specialists from Hong Kong considering its special location, landscape-unique height of the building, as well as requirements to elite class dwelling. The best engineering solutions are used at every stage of construction. The building architecture is represented in simple and elegant style using environmentally safe materials.

Planning

Planning

When there are no barriers the world offers opportunities. Step forward, look around – a blank canvas. Here, you can turn any challenging idea into reality, and the main thing, to be there where everything is as it must be. To combine rooms, apartments and floors, everything to make a home of your dream. An then, you can enjoy not only the interior but the exterior views through floor-to-ceiling windows up to 3.60 meters high opening the beauty of landscapes of Amur Bay and Golden Horn Bay. We have additionally prepared 3 planning solutions so that you can easily imagine your future residential place.

Security

Security

The safety of residents is the most important priority for the Aquamarine Residential Estate. Here you can be sure that the protection systems work perfectly. A five-step access control system will prevent penetration into the territory of the complex and, particularly, into the dwelling areas. A modern fire protection system will preclude the occurrence of fire. Round-the-clock video surveillance in all common areas will allow you to enjoy comfort, leaving all safety concerns to us.

Improvements and Landscaping

Improvements and Landscaping

The aesthetics of modern architecture comes across here with the endless expanses of the sea surface and is embodied in the perfect space for life. Aquamarine is not just the comfort of luxury real estate. This is a place where beauty and convenience, innovation and comfort, security and tranquility will never be in conflict with one another. Life in the city center can be free from noise and polluted air - innovative construction technologies and location solve these problems. The infrastructure can be comfortable and safe for both adults and children, thanks to the concept of "The yard without cars", large playgrounds and a separate parking lot. All this becomes a reality in the Aquamarine residential estate.
More info
INFRASTRUCTURE
ALL YOU NEED IS NEAR
For future residents, Aquamarine is creating a comprehensive infrastructure, its own comfortable and secure elite neighborhood with everything that a modern city dweller with high demands might need. Shopping and entertainment center, children's and sports grounds, a promenade, convenient parking and even a private largest in Russia yacht club will be readily available to everyone who chooses Aquamarine as their new home.
Infrastructure
APARTMENTS
THE CHOISE IS YOURS
Architecture of the complex allows joining several apartments and floors easily. Absence of columns in the building makes it possible to implement any design project. The building construction assumes free layout of each apartment, and you will be able to create the interior of your dream without any barriers.
FREE LAYOUT

Layout of the apartment in accordance with your desires

READY-MADE SOLUTIONS

Apartments with ready-made design project

NO LIMITS

Join several apartments or floors at once
Select an apartment